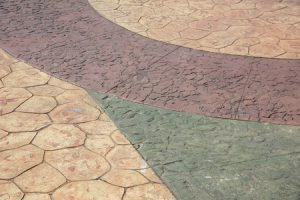 When you think "concrete," do you automatically picture a boring gray color? We have good news: gray isn't the only option when it comes to concrete, so if you're hoping to use it in an interior or exterior remodel, it's time to reconsider your design plans and think about adding in some colored concrete.
Contractors started using colored concrete back in the 1950s, when synthetic iron oxide was mixed in with concrete powder to give it a colorful hue. In most cases, you can easily obtain an earthy color, like brown and red, by using regular gray concrete; but, if you want a brighter color, you can mix in white cement instead, which gives you a wider range of color possibility.
For DIY projects, most concrete colors can be purchased at your local hardware store; look for bottles of liquid cement color.
First is integral coloring, where a liquid or powder color is added and mixed with the concrete inside the truck.
Shake-on coloring is the application of finely ground pigments and dry cement onto freshly-placed wet concrete. With this method, since the color is only mixed into the top layer of cement, grinding or polishing will damage the color.
Acid staining is another method for achieving a colored concrete, and it's done after the concrete has been poured and dried. Acid is painted onto the concrete surface, and a chemical reaction results in a mottled color.
Acetone dyes are another option: an acetone dye would be applied once the concrete has set and been polished, but acetone is dangerous for indoor use.
Water-based dyes are a safer option. You can use this method to paint patterns into the concrete, so design-wise this could be the right choice for you. Using the other methods of concrete coloring may not give you the option of creating a detailed design in the finished product.
If you're interested in working with concrete experts to install colored concrete in your home, call Bergen Mobile Concrete today at 201-797-7550 or click here for a quote.