It's easy to forget about your concrete patio when it comes to cleaning your outdoor living space before the summer hits. However, you want your concrete patio to look its best for the season of outdoor enjoyment, so now's the time to remove any leftover debris, clear away any mud or dirt and take care of any caked-on gunk or blemishes. Your patio is a social area, so it is important to make sure these areas are clean and clear of debris. But how should you go about cleaning your concrete patio? Here are two different ideas to consider.
Chemical Cleaner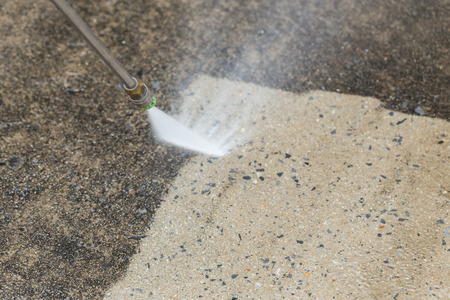 Using chemical cleaner is a common option for cleaning concrete areas, but there are a few different things to consider when it comes to selecting a solution for cleaning. If you have areas that do not have embedded dirt in them, use a pH-Neutral cleaner. If you have dirt or other more acidic stains, consider an acidic cleanser.
For grease staining – such as a section of your patio where your grill dripped grease – try using an alkaline cleaner. These types of cleaners essentially loosen the grease, and you should lift the stain off the concrete using rags or a wet-dry shop vacuum. Finally, Concrete Network notes that bacterial or enzymatic cleaners are very good at removing protein stains, like those caused by pet or animal wastes. If your pup has been using the back patio as a bathroom through the winter, this type of cleaner can lift any stains and restore the good look of your concrete.
Power Washer
A cleaner is great for targeting specific areas in need of a deep clean, but a power washer can quickly blast away dirt and mud from your whole patio or any other hard surfaces outside the home. For most residential applications, a cold-water washer makes the most sense, hot-water units can help clean more quickly and are much better at rinsing away oil or grease.
In terms of water power, most power washers contain a fan-like nozzle, although there is also a rotary nozzle that can be used to increase pressure. The rotary nozzle forces the water out of the hose faster than a standard fan nozzle, says Concrete Network, so if you're working with a heavy-duty stain, using the rotary nozzle can help clear away dirt, debris and stains much faster and more effectively.
Bergen Mobile Concrete Delivery Services
This is the perfect time to get your patio ready for the warmer weather ahead, and that includes planning any new projects. Whether you're building your first patio, adding on to extend your space or doing any other concrete pour, Bergen Mobile Concrete in New Jersey offers concrete delivery with mobile concrete mixer trucks available to come to your home that can mix exactly what you need. Check out the concrete calculator to determine exactly how much concrete you need or call us at 201-797-7550 today to learn more or to schedule a delivery.