Homeowners who have a concrete patio on their property know how important proper upkeep is. Not only will it keep your patio looking its best, but it can save you big in the long run. We understand maintaining your property's patio may not be on the top of your to-do list, but putting an emphasis on your patio's appearance this summer will go a long way in adding curb appeal and preserving your patio for years to come.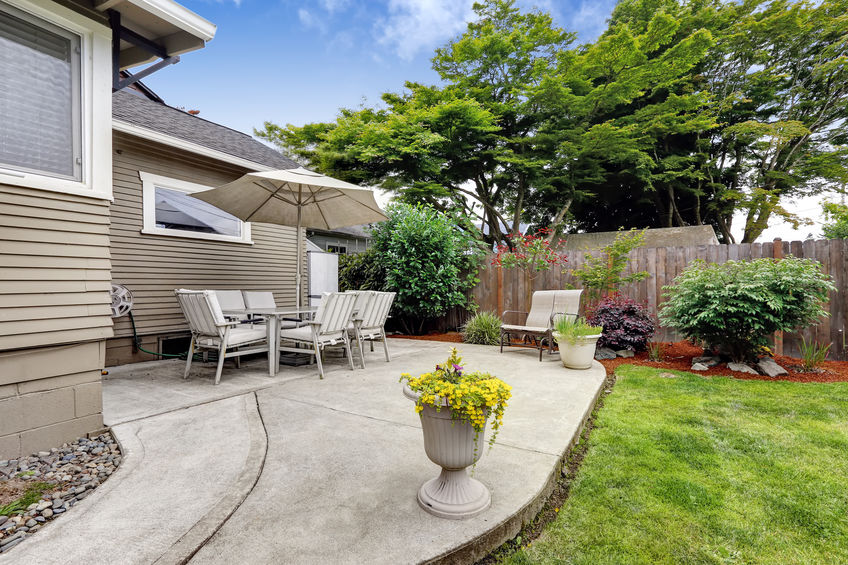 Repair cracks to your concrete patio
When the summer weather arrives, it means spending more time outdoors on your patio. When you're enjoying your patio this summer, we suggest inspecting it every so often for cracks. If you notice a crack, call a local concrete company for the concrete that is required for repairs. Make sure to have the cracks fixed as soon as possible, as extreme heat can cause the cracks to get even larger.
Power/pressure wash your concrete patio
Another way to keep your patio looking its best is by power or pressure washing it every summer. Simply spray the concrete to remove dirt buildup and more. For a deep clean, scrub your concrete with a mix of water and liquid dish soap after the power/pressure washing. A final rinse of the concrete after scrubbing will ensure that no soap lingers on your patio.
It's important to look at the washer's settings before you begin to spray your patio, as a higher setting may actually cause damage to the concrete.
Properly shade your concrete patio
Once all cracks are fixed and the patio is clean, it's important that your patio isn't getting too much sunlight. Too much sun can create cracks once again, as well as discoloration of the concrete. An area rug or umbrella can provide the necessary shade to protect your concrete patio when the temperatures rise.
If you need concrete delivered to your property to fill cracks or are interested in adding a new patio to your property, we ask that you reach out to our experienced team at Bergen Mobile Concrete for all of your metered mobile mixer needs.
With our team, you'll never worry about ordering too much concrete for your patio project. Simply give us a rough estimate of your concrete needs and we will bring our mobile mixer to your site and create the concrete mix right at your property. This way, you won't have to pay for concrete you don't end up using. Learn more about our metered mobile mixers and concrete buggies by calling Bergen Mobile Concrete today at 201-797-7550!