Most mixes of Portland cement are very similar, but there are many differences that builders should know about before picking what type of use. The type of cement that you should use changes dramatically based on the job, as well as the physical and chemical requirements for specific applications.
In total, there are eight different types of Portland cement. Let's look at the differences and the types of jobs each should be used for with information from the Portland Cement Association.
Type I is used for general projects and is suitable for almost all day-to-day concrete applications.
Type II concrete is used for structures in water or soil that contain moderate amounts of sulfate. This type of cement is also commonly selected for use in locations there heat build-up is a concern.
Type III cement provides a great deal of strength and resistance even in its early state – as little as one week. This makes it desirable for quick-moving projects.
Type IV moderates heat generated from hydration, which makes it ideal for use in heavy-saturation scenarios and massive concrete structures like dams.
Type V cement is resistant to chemicals, such as high-sulfate soil or water, meaning that it can be used in harsh environments with ease.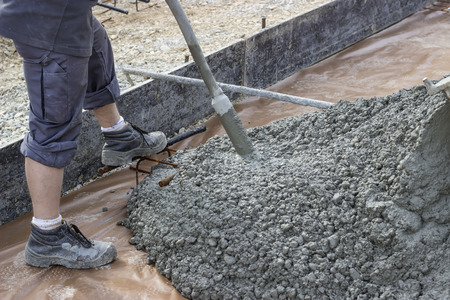 Finally, there are three mixes used to make air-entrained concrete: IA, IIA and IIIA. They have the same properties as types I, II and III, but have small quantities of air-entrained materials combined with them.
Knowing which type is right for your job site can make a big difference in the success of your project. Builders should also look at some other characteristics of concrete before picking one. Some of the top considerations include slump – the measure of plasticity of the concrete when it is being poured – and fly ash content, which reduces cost while slowing the setting time, giving you more time to place and shape the poured concrete while working.
Finally, there are chemical admixtures put into concrete that can enhance certain performance characteristics of concrete, notes wikiHow. This can range from making more fluid concrete to pour in confined spaces to water reduced mixes that minimize the need to include construction joints where using them may not be possible.
There is a lot of consider when selecting your concrete, so if you have any questions, just give us a call at Bergen Mobile Concrete. We work with different types of concrete all the time, so we can answer any questions you have. To learn more or to schedule a concrete delivery, call us today at 201-797-7550.