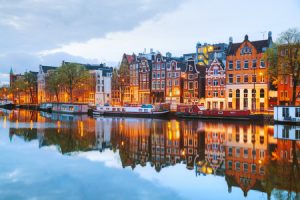 Flooding events are expected to become increasingly common in the coming years, according to the UK Climate Projections 2018. Over the next decade, hotter summer temperatures, rising sea levels and more extreme weather events such as flash floods will necessitate creative solutions in housing.
Dutch architects may have found one such solution by using buoyant concrete foundations to flood-proof homes.
The new houses don't have conventional foundations anchoring them to the ground. Instead, they have air-filled concrete bases that allow them to float.
Some of the houses are designed to float all the time. They can be joined together to form floating communities that sit on top of a lake—an innovative solution to the housing shortages that plague some countries.
Other houses are amphibious. These are designed to sit on solid ground most of the time, but are able to float in the event of flooding. In the event of a flood, this feature could save homeowners thousands of dollars, as they will no longer need to make expensive foundation repairs after the water recedes.
Currently, the technology is expensive. Flood-proof houses cost about 20% more to build than conventional houses. However, they can be built on floodplain land, which tends to be cheaper, offsetting some of the cost. As the technology becomes more prevalent, the price may drop over time.
If you're looking for high-quality concrete, look no further than Bergen Mobile Concrete. We're proud to deliver concrete to customers throughout to Northern New Jersey using state-of-the-art mobile concrete mixers. Give us a call at (201) 797-7550 today to learn more!