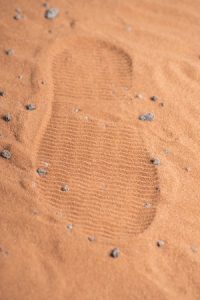 NASA is hoping to send humans to Mars by the time 2030 rolls around. SpaceX CEO Elon Musk is hoping to send them to the "Red Planet" even sooner than that. But will humans actually be able to survive and settle on Mars?
There are a number of important developments and innovations humans will need to successfully settle on Mars in the future. For starters, scientists need to figure out a way to create thousands of tons of concrete on the surface of a distant planet so that astronauts can make their homes in space. Mars is frequently subjected to lethal doses of radiation and micrometeorites that are capable of doing significant damage to fragile structures. With these dangers in mind, humans will need a great deal of concrete to protect structures on mars, the moon and other planetary bodies.
Now, in an attempt to make concrete in space, NASA is collaborating with Stanford School of Engineering professor Michael Lepech. It would be impossible for NASA to ship the products necessary to create concrete to Mars, so Lepech and NASA researcher David Loftus have come up with a possible solution. They have discovered a way to combine animal proteins with the type of extraterrestrial soil commonly found on Mars to create concrete that is, thus far, as strong as the concrete used to make sidewalks and patios here in the U.S.
Researchers are still testing it out—it appears to be strong enough to withstand micrometorite impacts and protect astronauts from radiation—but the hope is that this type of concrete could eventually be used on Mars and also incorporated into buildings, roads, and more on Earth. It's exciting to hear about the progress Lepech and Loftus have made in such a short amount of time.
At Bergen Mobile Concrete, We've been supplying businesses and individuals in Bergen County, New Jersey with concrete for almost 30 years now, and we can set you up with as much concrete as you need for your next project. Call us at 201-797-7550 today to schedule a concrete delivery.