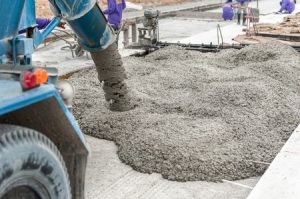 In an effort to reduce the carbon footprint of road construction, the Hawaii Department of Transportation (HDOT) is testing a new carbon-injected concrete mix.
To test the mix, HDOT will pour about 4000 cubic feet of the carbon-injected concrete mix next to the same amount of standard concrete mix. The test will take place on an access road for the second phase of the Kapolei Interchange.
By comparing the two mixes side by side, HDOT will be able to establish specifications for the use of carbon-injected concrete in future road projects.
The carbon-injected concrete mix is made by Island Ready-Mix Concrete. The company mixes waste carbon dioxide from Hawaii Gas into the concrete using CarbonCure technology. This process traps the carbon dioxide in mineral form within the concrete, enhancing the material's overall strength.
According to HDOT, the quantity of concrete poured in the demonstration will save about 1500 pounds of carbon dioxide. The demonstration alone will offset the carbon dioxide emissions of approximately 1600 miles of highway driving. If the carbon-injected concrete mix is more widely used, the environmental impact will be even greater.
Elemental Excelerator, a Hawaii-based startup accelerator, is supporting the project. Aki Marceau, managing director of Elemental Excelerator, says: "We are proud that Hawaii is looking at sustainable building practices to mitigate the effects of climate change."
Hawaii Governor David Ige is glad to see his state taking the lead on sustainable road construction as well.
"As the daily baseline measurement for carbon dioxide in our atmosphere reaches the highest level in modern history, it is especially important for all of us to do all we can towards ensuring a sustainable Hawaii for future generations," said Ige in a recent statement.
Need some high-quality concrete at a price you can afford? Bergen Mobile Concrete specializes in providing top-of-the-line concrete to homes and businesses throughout Northern New Jersey using metered mobile mixers, so you'll never pay for more than you need. Give us a call at (201) 797-7550 today to learn more.