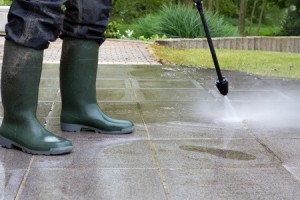 Whether you have a concrete patio or driveway, interior concrete floors, or any other type of concrete surfaces in and around your home, keeping them in top shape should always be a priority. And while concrete is highly durable and can look brand new for years to come, there are a few things you can do to help. Concrete can get dirty just like any other type of flooring, so cleaning it on a regular basis is always a good idea.
The first step to clean concrete surfaces is to use a broom to sweep up any debris. You should use a dust mop that can easily pick up and remove dust and other small particles that may be covering your concrete.
Once you have given your concrete floors an initial sweep, you can move on to using water. Mix a bucket of water with some dish soap to create a gentle cleaning mix. Keep in mind that you should not use substances like vinegar or ammonia on concrete because they can cause damage to the material. Next, wet your mop and start cleaning small sections of the surface at a time. Refill the bucket as needed, and repeat this process until you have covered the entire area.
You can also keep your concrete looking new by rebuffing and resealing it as needed, but a simple cleaning should do the trick in most cases. For more tips on how you should care for your concrete surfaces, keep checking back with the team at Bergen Mobile Concrete!