Concrete patios are great because they are durable and long-lasting. They make for great surfaces, whether they're patios, sidewalks, walkways, etc. You still need to make sure you're cleaning the patio because weather can put some wear on them. If you have a beautiful concrete patio, here are some ways to keep it looking clean and bright.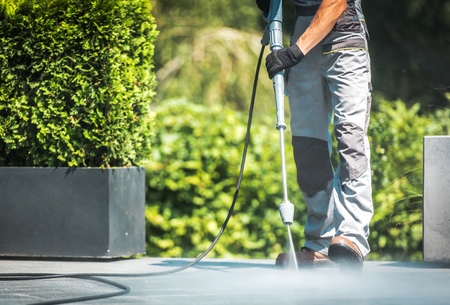 Clear Debris and Moss
If you have debris and moss on the concrete, it's important to clean this off before using any water. What you'll need to do is loosen up the moss and sweep it off with a broom or use a leaf blower to clear it.
Hose Down and Power Wash
After blowing off the debris, use a hose or power washer to wet the concrete and power wash all the mildew and stains on the concrete. You'll notice the color change from over the years when you're using a power washer.
Do it Yourself Cleaner:
A great way to get rid of stains and mildew is to mix your own cleaning ingredients and scrub them on the concrete patio. Take distilled white vinegar and mix it with a cup of baking soda. Spread the mix over the patio with a sponge and let it sit for a half and hour. Then, scrub the patio with a nylon-bristled scrub brush. After you scrub, it's time to take out the hose or power washer and rinse it off. Let it dry before putting your furniture back on.
Bergen Mobile Concrete
At Bergen Mobile Concrete, we specialize in concrete mixing and delivery for whatever your project is. If you need to replace your concrete patio with new concrete or you would like to install a concrete patio or walkway, we are the perfect solution for you. Using our mobile concrete mixer trucks and concrete buggy, we can supply you with the right amount of concrete for your project. Contact Bergen Mobile Concrete at 201-797-7550!