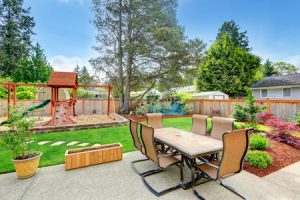 Thinking about installing a new concrete patio so that you and your family can enjoy spending more time outside this summer? This is a great idea, but it's important to do some preliminary planning before you start pouring concrete. You can start designing your new patio with the suggestions below!
Figure out where you want the patio to go.
There are probably a few different places where you might install a concrete patio on your property. Many people like to put their patio in a place that's not too far from their kitchen, especially if they like to entertain guests. You might also want to install your patio adjacent to an exterior door so that you can shade it with a retractable awning.
Determine how big the patio is going to be.
Your concrete patio can be as big or as small as you want it to be, depending on the size of your family and the amount of outdoor furniture you have. If your yard is relatively small, however, an especially large patio might overwhelm other features of your property. Ideally, your new patio should complement your existing landscaping efforts rather than distracting from them.
Obtain the proper permits.
Before installing a concrete patio, you'll need to make sure you have the necessary permits from your local city or town. The permitting process can vary from town to town, so check with your local building department to find out exactly what you need to pour a new patio on your property. If you haven't done this type of work on your own in the past, consider recruiting the help of a professional paving company as well.
Get your concrete from a reliable source.
Once you've planned out your patio and found an experienced installer, it will be time to schedule your concrete delivery. At Bergen Mobile Concrete, our metered mobile mixers are designed to make sure you never have to pay for more concrete than you need. Plus, our concrete is made fresh for each job so you can get the best possible results.
To learn more, or to schedule your next concrete delivery, feel free to give us a call at (201) 979-7550 today!