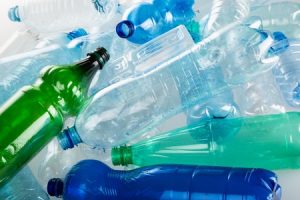 Concrete mixtures have evolved quite a bit over the course of the last several thousand years. Whereas the ancient Romans added volcanic ash their concrete to allow it to set underwater, modern concrete often features chemical admixtures to control its hardening rate and tensile strength. Engineers are always looking for ways to make stronger, more durable concrete mixtures, and a team of MIT undergrads may have just made a surprising new breakthrough.
The students set out to make industrial concrete stronger and more-environmentally friendly by experimenting with different additives. In their preliminary research, the students found that some types of plastic become stronger when exposed to gamma radiation. This gave them an idea: Why not use plastic bottles from the local recycling center to create a strengthening agent for their concrete mixture?
After developing their hypothesis, the students went to work gathering recycled plastic bottles and crushing them into fine particles with a ball mill and hand tools. Then, they used a cobalt-60 irradiator (which is often used to decontaminate food in commercial settings) to bombard the crushed plastic with gamma rays. After adding the irradiated plastic to a standard concrete mixture, the students ran a series of tests and found that the concrete was 15 percent stronger than their control samples.
"We know that the plastic makes it denser and forms particular crystalline structures in the material that make the final concrete stronger," said assistant professor Michael Short in an interview.
Now, the team of students hopes to refine their technique and explore ways to make the plastic-infused concrete marketable to construction companies.  They're currently working on a proposal to the National Science Foundation for additional funding. With continued research and development, the students may be able to create an innovative new type of exceptionally strong, eco-friendly cement.