There are few mistakes more annoying than paying for a product or service that you don't need. Instead of regretting the money you wasted, Bergen Mobile Concrete wants to make sure you keep your hard-earned money. That's why we offer our mobile concrete mixer service that allows you to pay for only what you end up using.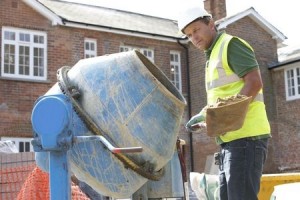 Even if you're just planning a small construction or remodeling project, you often don't know the exact quantity of materials you need until the job is over. Accounting for waste, spills and other unknowns often means overordering, meaning you buy too much and end up wasting money. You could go conservatively, but that could also mean you buy too little and have to make multiple purchases along the way to obtain everything you need – often costing even more. Both these scenarios are annoying, and a big turn off for anyone who is working on a project.
Avoid these scenarios altogether, you can overplan without worry by using our mobile concrete service. Our truck can deliver up to 11 yards of concrete per delivery, and you simply need to let us know how much you think you'll need. If you end up needing less than you originally specified, don't worry – you're only ever charged for every increment of one-quarter yard that you use after we mix the concrete.
Most project managers recommend overordering by 10 percent of what you think will be needed just in case you need extra. While this isn't a bad idea, it means you're wasting 10 percent more money if your original projections are correct. This may not seem like a lot of money after just one project, but it quickly adds up over time. Avoid this issue altogether by taking advantage of our mobile concrete mixer service.
Get in touch with a member of our team today to learn more about how we can help!