Concrete is such a common material for foundations, slabs, sidewalks and other construction projects that it is easy to forget it needs to be poured under the right circumstances. The weather, and particularly the temperature, plays a significant role in allowing concrete to set properly. Here's how the weather affects your pour.
Cold weather presents a number of challenges to pouring concrete. Freezing temperatures, heat loss between the time the concrete is mixed and when it is poured, and snow or ice can wreak havoc on your concrete installation.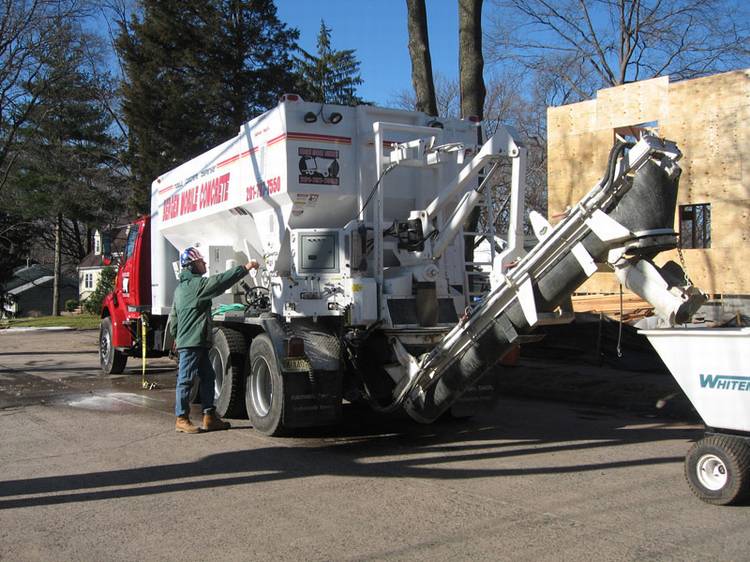 Freezing temperatures are a significant problem when pouring concrete. The concrete must harden to a strength of at least 500 psi before freezing. Newly poured concrete that freezes before it has adequately hardened may be irreparably damaged as a result. In fact, concrete that freezes can lose as much as half of its intended strength.
Frozen ground is also a problem when pouring concrete. Even if the air temperatures are above freezing, ground that is frozen will likely cause trouble. Frozen ground can increase the time needed for the concrete to set. Further, the ground may also settle and reposition after a thaw, causing the concrete to shift and crack. Pouring concrete onto frozen ground requires first taking steps to thaw the ground.
Snow, ice or standing water are also common at construction sites during the cold weather. Pouring concrete on top of this moisture can lead to problems, as it may affect the rate at which the concrete sets or introduce too much moisture into the concrete mixture, impacting the cured concrete's final strength.
Concrete that is mixed at a plant and then transported to a job site will lose heat during transport in cold weather. A general rule is that the concrete temperature will decrease by about one-fourth the difference between the mix temperature and air temperature for every hour of transport. During winter weather this could easily amount to 5 or more degrees per hour. Fortunately, at Bergen Mobile Concrete, we use a fleet of state-of-the-art, metered mobile concrete mixer trucks to deliver concrete throughout northern New Jersey. With our ability to mix on-site, you can get exactly the volume you need and without the risk of temperature loss.
We aim to provide dependable, reliable service on every delivery, regardless of how much concrete you need. To learn more, call us today at 201-797-7550 and request a quote for your next project.