Concrete projects, whether it's at a home or a business, can be quite tricky when you don't have the right equipment. Bergen Mobile Concrete is your best choice when it comes to mobile concrete delivery. Saving time and headaches with mobile concrete mixer trucks and concrete buggies from us can help you get the concrete project done the right way.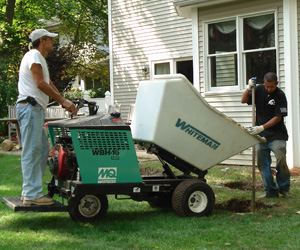 Concrete Buggy Trucks
We offer and supply a concrete truck that comes with a buggy, so that your workers won't have to worry about spending time pushing a wheelbarrow full of concrete mix. This is the perfect choice for smaller projects that only require a 37-inch opening. Pool decks, patios, and walkways that are concrete will benefit from our concrete buggy.
Metered Concrete Mixer
Our mobile mixer is quite beneficial because it eliminates waste unlike a traditional ready-mix truck. The customer benefits because they only pay for the amount that they use, which means they are saving money. This metered mobile concrete mixer truck allows us to provide the exact amount of concrete needed for the mix design.
Same day concrete delivery
Only pay for what is used
Concrete is made fresh to order on the job
Waste is close to zero
Supply low range concrete to high performance Rapid Set concrete
All-wheel drive concrete buggy
Save money and time with our concrete delivery services. We can help you get your concrete mixed, whether it's a short load concrete order or a large concrete order. We make just enough for your project and charge you for what is mixed.
Many other companies tell customers to order at least 10% more than they need just in case they run short. This can be costly to the customer. This is not how we work, and we can determine exactly what you need, so you're not over-charged and you don't have any extra concrete.
Contact Bergen Mobile Concrete at 201-797-7550 today!