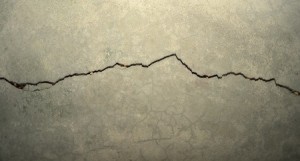 Concrete is one of the most commonly used building materials due to its strength and durability. However, it can be very frustrating to find it starting to crack regardless of how long ago it may have been poured. The fact is there are numerous factors that are involved that can lead to concrete cracks, including soil upheaval and the climate you live in.
When it comes to upheaval, things such as plant roots can cause concrete to crack in multiple places. To avoid this happening, placing steel reinforcement around the area in which the concrete is poured will help keep the roots and soil from affecting it. Another option is choosing not to pour next to mature trees as their roots can extend up to 40 feet.
Now if you live in an area with hot weather, your concrete is more likely to develop shrinkage cracks than if it were in a more moderate climate. The reason is due to heat, as hot and arid conditions – like those sometimes seen during the past few summers – require that more water is used in the initial concrete mixture so it is able to dry properly. However, this excess water can result left over water filling in throughout the concrete, resulting in shrinkage that causes hairline cracks. To fix these cracks, synthetic fibers and sufficient rebar should do the trick.
On the other hand, when there is extreme cold and snow, your concrete can fall victim to freeze-and-thaw cycles that will eventually lead to cracks in the concrete. These can also be remedied with the same items as if the concrete were in heat.
With all of these factors at play, turning to professionals like the team at Bergen Mobile Concrete is your best solution. With more than a quarter century of experience mixing high-quality concrete for the Northern New Jersey area, we can help make sure that you receive the perfect blend of concrete for your project. To learn more or to schedule a delivery, call us today at 201-797-7550!