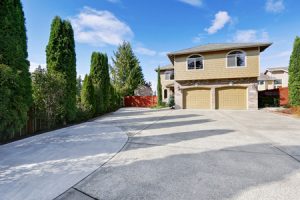 Thanks to their exceptional durability, concrete driveways typically last years longer than driveways paved with asphalt. Concrete is also stronger than asphalt, which can be beneficial if you regularly park heavy vehicles or equipment in your driveway.
That said, no paving material is completely impervious to the elements. Over time, excessive wear can cause concrete to crack and spall, spoiling its appearance and reducing the expected longevity of a driveway. The good news is, there are a few simple steps every homeowner can take to make sure their concrete driveways remain in good condition for many years to come.
Apply a Sealcoat
This is perhaps the single most effective thing you can do to protect your driveway from the elements. A sealcoat prevents cracking by protecting the surface of the concrete from moisture penetration. Ideally, concrete driveways should first be sealed a few months after they're paved, and then resealed at least once every two years.
Make Repairs Early
Sooner or later, you'll start to notice small cracks forming on the surface of your driveway. By filling these minor cracks with an epoxy injection, you can prevent them from becoming much larger cracks in the future. It's much easier and more cost-effective to make these minor repairs rather than wait for them to become more serious issues.
Avoid Chemical Treatments
De-icing chemicals make it easier to shovel your driveway in the winter, but they can also accelerate wear on concrete. Instead of using rock salt or other harsh chemicals on your driveway, opt for gentler alternatives like sand, alfalfa meal or cat litter to give you some extra traction in snow and ice.
Invest in Professional Paving
A concrete driveway's lifespan will depend largely on whether or not it's properly installed. Concrete paving might look pretty straightforward, but getting the job done right is easier said than done. If you haven't had much experience working with concrete in the past, it's typically best to leave driveway paving to the professionals. This way, you can be completely confident in the structural integrity of your new driveway.