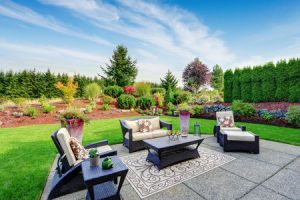 If you're thinking about upgrading your home with a patio installation, you're probably deciding between several different materials, including concrete, wood and paving stones. At Bergen Mobile Concrete, we think concrete is the ideal material for a patio surface.
Here are some reasons why.
You'll Enjoy It for Years
With basic maintenance and proper installation, your concrete patio can last for 30 years or more. Concrete stands up to cold temperatures, snow and rain. Unlike wood, it won't rot or splinter, and unlike paving stones, it's less likely to shift and need readjusting.
It's Low-Maintenance
All you need to do to maintain your concrete patio and keep it looking nice is seal it and give it a good cleaning once every year or two. No constant touch-ups needed, so sit back, relax and enjoy your concrete patio!
You Can Choose Your Style
Concrete is also an incredibly versatile material. With stamping patterns, it can imitate brick, stone or tile. Jazz it up with geometric patterns, or stain it in a wide variety of solid colors or blended patterns—the choice is yours!
Save on Installation Costs
Concrete is one of the most economical patio materials on the market. Your design choices can increase your costs, but with simple designs, you'll be paying less than other materials for your patio
Need some high-quality concrete for your patio? Our metered mobile mixers can deliver fresh concrete right to your door. Plus, you'll never pay for more than you need. To get started, give us a call at (201) 797-7550 today!