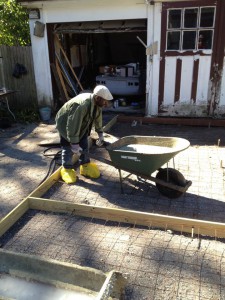 There's a reason that concrete has been used in creating structures since the Romans poured the first aqueduct. Concrete is one of the strongest and most affordable resources available for buildings of all types – residential, public, and business. However, when it comes to architectural creativity, concrete usually has a pitfall. Complex structures are difficult with concrete, because an exact mold with a non-stick mold medium and a cleaning agent must be used. And one-of-a-kind, twisted pieces that require mold after mold to assemble can get expensive.
A group of graduate students from London's Bartlett School of Architecture may have come up with a solution. The team has come up with a technique for pouring concrete that they're calling "Augmented Skin." It's a fairly simple idea. The students are using sticks like cake dowels to hold the structures in place and then pouring concrete into fabric around them. The finished prototypes are skeletal in nature – knobby, twisted, and almost fragile. But these are concrete pieces, so the hypothesis is that the structures would not only survive harsh weather conditions, but also the test of time.
The fabric mold doesn't require any scaffolding and the entire process happens rather quickly. This means that one of the major applications, beyond testing the boundaries of what is architecturally and artistically possible with concrete, is in relief housing after major catastrophes. The project harkens back to Binishells, invented in the 1960s by Dr. Dante N. Bini. Binishells were also supposed to be used as relief housing. They were produced by pouring concrete directly over an inflatable air bladder.
Bergen Mobile Concrete is always looking for new applications and innovations in the concrete world. Contact us today for your own concrete needs!
Source: http://www.wired.com/2014/12/experimental-building-technique-makes-concrete-look-like-skeletons/#slide-id-1667103