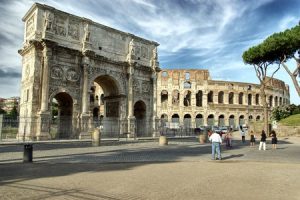 Modern cement-based concrete might be pretty durable and long lasting, but it's got nothing on the concrete used to build piers, sea walls and harbors in ancient Rome. Despite being partially submerged in corrosive saltwater for more than two thousand years, many of these structures remain standing to this day. Scientists have long wondered why the Romans' blend of volcanic ash, rocks and lime has been able to stand the test of time, and after a new round of analysis they finally have their answer.
The researchers used a combination of X-rays, spectroscopy and electron microscope analysis to study the distribution of elements in samples of the ancient concrete. After taking a closer look at the concrete, the researchers were able to identify a rare mineral called aluminous tobermorite that had formed powerful interlocking crystals throughout the concrete mix. As they grew, these crystals caused the concrete to get stronger with time, allowing it to retain its structural integrity for thousands of years.
So what caused the strengthening  tobermorite crystals to form?
In fact, it was prolonged exposure to seawater. Rather than corroding the Roman concrete, the seawater triggered a chemical reaction in the lime which caused the crystals to grow and spread through the concrete. Simply by chance, the unique combination of volcanic ash, lime and seawater caused the ancient Roman concrete to grow stronger with time.
"Contrary to the principles of modern cement-based concrete, the Romans created a rock-like concrete that thrives in open chemical exchange with seawater," explained lead study author Marie Jackson in an interview with BBC.
Now, the researchers are looking for ways to implement the unique chemical properties of ancient Roman concrete into new structures such as the Swansea Bay Tidal Lagoon in Wales. This may be easier said than done, however, as the type of volcanic rock present in Roman concrete is hard to come by in many parts of the world. The Romans were lucky enough to be situated in a place where all the elements for their super-strong concrete just happened to be readily available.