In the wintertime, it's important for airports to do whatever they can to keep snow and ice off runways and other concrete surfaces that are used on the perimeter of the property. Snow and ice can cause severe delays and, in some cases, it can even make it impossible for flights to take off and land at airports. It's why a team of researchers at Iowa State University have come up with a possible solution for clearing snow and ice off concrete surfaces quickly and easily.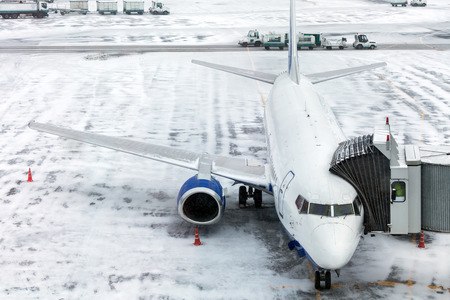 Iowa State professor Halil Ceylon and his team have created a new kind of electrically conductive concrete that is able to melt away snow and ice without any effort on the part of people. As New Atlas reports, Ceylon and his team have installed some of this concrete at Des Moines International Airport in an effort to test it out and see how it works.
The top layer of the concrete includes 1 percent carbon fiber and a mixture of cement, sand and rocks that is designed to house six electrodes that are connected to a power supply located in a hangar at the airport. When the electrodes are turned on through the use of an app, they generate an electrical current which heats the surface of the concrete up and makes it warm enough to melt away any snow or ice on top of it. Ceylon and his team have also tinkered with the concrete to ensure that it doesn't get too hot and that the electrical current isn't so high to lead to any electrocution hazard.
While the researchers aren't yet sure if it would be practical to use their electrically conductive concrete on runways at airports, they are confident that it could be used in congested areas of the airport like aprons and sidewalks. This would help maintain common and high-traffic areas around the facility, reducing maintenance needs and improving overall efficiency and safety.
Ceylon isn't the only one working on a special concrete that would be able to clear snow and ice, either. University of Nebraska-Lincoln professor Chris Tuan has also created a conductive concrete that has steel shavings and carbon particles in it. This allows it to conduct electricity and get warm enough to melt any snow and ice that lands on top of it. This material was tested last year as part of a series of ongoing testing conducted under an FAA program, reports New Atlas.
With snow now largely out of mind for the season, at Bergen Mobile Concrete, we're thinking forward to concrete needs for the rest of the year ahead. If you have a project coming up, we can bring an exact amount of concrete to you whenever and wherever you need it. There's no need to pay for more than you need when you work with us – we'll arrive and mix on site the exact quantities that you need. Learn more or schedule a delivery today by calling us at 201-797-7550.